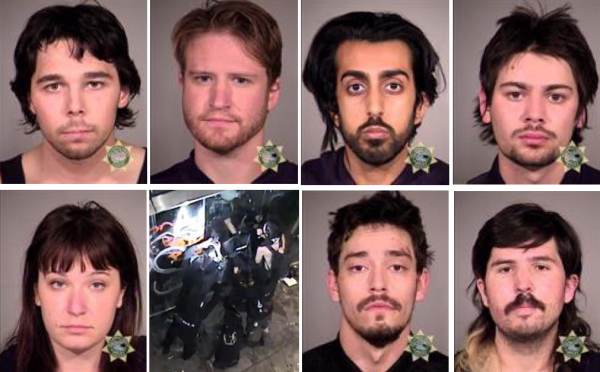 7 ANTIFA-TERRORISTS IN CUSTODY AFTER WEEKEND OF MAYHEM IN PORTLAND
---
Time's up for a group of domestic terrorists in Portland, OR who the federal government will be holding accountable for riots from over the weekend. Seven Antifa followers now face federal charges after a series of attacks on Hatfield Federal Courthouse this past weekend. These suspects will appear in front of a federal judge after the soft Multnomah county District Attorney allowed violent swarms of unwashed Marxists back on the streets by dropping charges time and time again.
The official DOJ statement says:
"PORTLAND, Ore.—U.S. Attorney Billy J. Williams announced today that seven people have been arrested and face federal charges for their roles in weekend riots at the Mark O. Hatfield U.S. Courthouse in Portland.
"According to court documents, since May 26, 2020, protests in downtown Portland have regularly been followed by nightly criminal activity including assaults on law enforcement officers, destruction of property, looting, arson, and vandalism.
"Rowan Olsen, 19, of Portland, is charged with disorderly conduct, creating a hazard on federal property, and failing to obey a lawful order; Shant Singh Ahuja, 28, of Oceanside, California, is charged with destruction of federal property; and Andrew Steven Faulkner, 24, of Beaverton, Oregon; Gretchen Margaret Blank, 29, of Seattle, Washington; Christopher Fellini, 31, of Portland; Cody Porter, 28, of Portland; and Taimane Jame Teo, 24, of Eugene, Oregon, are charged with assaulting federal officers.
"The Hatfield Federal Courthouse has been a repeated target of vandalism, sustaining extensive damage. U.S. Marshals Service deputies and officers from the Federal Protective Service, Homeland Security Investigations, and U.S. Customs and Border Protection working to protect the courthouse have been subjected to threats; aerial fireworks including mortars; high intensity lasers targeting officers' eyes; thrown rocks, bottles, and balloons filled with paint from demonstrators while performing their duties."
The press release goes on to outline a timeline of events by date, reading:
"On July 2-3, 2020, Olsen is accused of using his body to push on and hold a glass door at the Hatfield Courthouse closed, preventing officers from exiting the building and causing the door to shatter. With the door broken, a mortar firework entered the courthouse, detonating near the officers. The officers used shields and their bodies to block the open doorway for approximately six hours until demonstrators dispersed.
"On July 4, 2020, Ahuja is accused of willfully destroying a closed-circuit video camera mounted on the exterior of the Hatfield Courthouse.
"On July 5, 2020, Blank is accused of assaulting a federal officer with a shield while the officer was attempting to arrest another protestor.
"On July 5-6, 2020, Faulkner, Fellini, Porter, and Teo are accused of assaulting federal officers with high intensity lasers. At the time of his arrest, Faulkner also possessed a sheathed machete.
"All seven defendants made their first appearances in federal court on July 6, 2020 and were released pending trial."
Concluding with, "A criminal complaint is only an accusation of a crime, and a defendant is presumed innocent unless and until proven guilty."
The DOJ file includes photographs of weapons collected from suspects and pictures of damage to the courthouse which included exploding mortars in the entryway of the building.
The Oregonian describes the unceremonious arrest of one suspect, Rowan Olsen, reporting:
"Deputy U.S. Marshal Alexander Penvela told investigators that Olsen was 'tugging' on the front door when a second person tried to place the board in the doorway and the glass broke.
'When it became safe, an arresting team went outside and grabbed Olsen, with all of them ending up on the ground. Olsen was kicking his legs in an apparent attempt to get up and escape,' a federal complaint says. 'Penvela grabbed Olsen's legs while two other (deputy marshals) handcuffed him and carried Olsen's upper torso. Olsen was carried into the courthouse and subsequently placed into a U.S. Marshals Service detention cell.'"
The federal arrests are a massive embarrassment to Portland Mayor Ted Wheeler and his top officials who, in the past, seemed glad to let their city descend into anarchy for every progressive riot; as well as their local DA who drops charges on domestic-terrorist, like Antifa, no matter what damage they cause the city or its people.