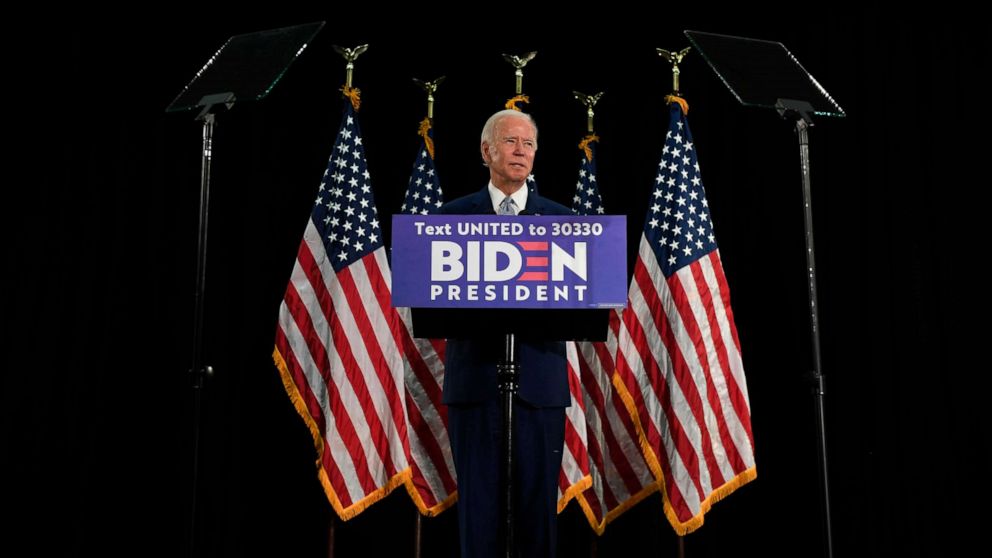 BIDEN SAYS DEFUND POLICE, CALLS COPS 'THE ENEMY'
---
Joe Biden is now betting on the more radical side of his party with a full on endorsement of defunding the police in an interview Wednesday.
The 77-year-old presumptive presidential nominee for the Democratic party tripped over his own tongue throughout the interview with health care activist Ady Barkan. Barkan, who was diagnosed with terminal amyotrophic lateral sclerosis (ALS) in 2016, uses a computer to speak.
Biden declared he "absolutely" supported removing funding from police forces across the United States, echoing the extremist views of fellow party members like AOC and Ilhan Omar, as well as the radical-Marxists groups like Black Lives Matter and Antifa.
Biden declared that police have "become the enemy" to the American people.
"Surplus military equipment for law enforcement. They don't need that! The last thing you need is an up-armored Humvee coming into a neighborhood just like the military invading!" Biden told Barkan. "They don't know anybody! They have become the enemy — they're supposed to be protecting these people."
When Ady Barkan asked if he planned to defund the police and use that money elsewhere, the former vice president exclaimed "Yes! Absolutely!"
WATCH THE ENTIRE INTERVIEW HERE
Biden appears to have changed course from past comments directly from his campaign assuring the voters he had no intention of defunding police.
"As his criminal justice proposal made clear months ago, Vice President Biden does not believe that police should be defunded," Biden campaign Rapid Response Director Andrew Bates stressed in the past. "He hears and shares the deep grief and frustration of those calling out for change, and is driven to ensure that justice is done and that we put a stop to this terrible pain."
The candidate went on to discuss his vision for reforming the police, saying, "One of the things that we also need to be doing is fundamentally changing way we deal with our prison system," he said. "It should be a rehabilitation system, not a punishment system. We're going to make sure you're qualified for every single right you had before you went to prison if you served your time."
Trump's camp quickly replied to Biden's new position via Twitter, with Rapid Response Director Andrew Clark pointing out "Looks like Joe Biden has changed his position on defunding the police," posted with the clip of the Now This interview.
Biden's campaign still pushed back that this has not signaled a new direction for the candidate's beliefs.
"I'd like to thank Donald Trump - for hiring an illiterate comms staff. Biden is running on *more* COPS funding for community policing," Bates snidely responded on behalf of Biden. "The same sentiment you're taking out of context RE: local budgets is *in* the articles about him opposing defunding."
Biden also said in the interview he felt it was the responsibility of the federal government to "go in" to "systemically change what's going on." He called for abolishing no-knock warrants and improving police transparency.
"This whole idea of no-knock warrants in drug cases is bizarre, it just invites trouble," Biden proclaimed. "There's a fundamental need for transparency and access to police records when they have misconduct charges against them."
In the longer-form version of the Now This interview, Biden says he believes police should not have been on the scene at all for the incident with Rayshard Brooks. He suggested the multi-time felon and convicted child abuser -who was driving drunk and feel asleep in the drive through lane of a Wendy's before he was killed by police after he assaulted them, injured one, disarmed an officer, and ran away before firing a weapon at the officers- just needed a mental health counselor and a tow truck.