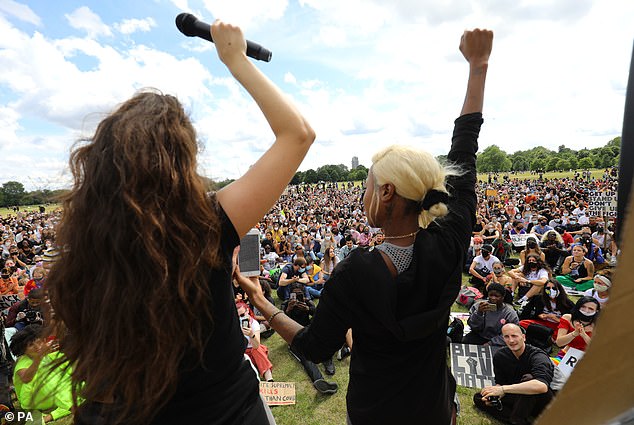 BLM ORGANIZERS FLEEING THE MOVEMENT 'HIJACKED' BY MARXIST-RADICALS
---
People waking up to the radical agenda of Black Lives Matter are causing organizers to flee. A leading figure of Black Lives Matter in the U.K. is walking away after seeing the movement "hijacked" by radicals using the momentum of the outrage culture for their own means.
Imarn Ayton, a 29 year old former BLM organizer from Britain, believes people giving money to dubious online donation campaigns do not realize the goals of destroying capitalism and abolishing the police are the outcome leaders in the wave of protests are hoping to achieve.
Ayton is an actress and was a key figure in organizing Black Lives Matter demonstrations on June 6th London's Parliament Square as well as a June 20th protest in Hyde Park.
She now says that Black Lives Matter UK had nothing to do with arranging the demonstrations. However, the BLM campaign group managed to raise over £1 million for their cause.
"A lot of people assume they were the driving force behind the protest when in actual fact they just support the protests," she said Sunday, to the Daily Mail.
"The BLM movement is a separate entity to BLM UK. I have no contact with BLM UK and they have not been on the ground once.
"The issue with BLM UK is they have not revealed themselves, they have not been transparent. They are abolitionists, they believe in the removal of prisons, smashing capitalism and abolishing the police."
BLM UK was founded in 2016 but the death of George Floyd and a movement to tear down statues in Britain this year renewed its relevance in the public eye.
The group's online presence tries to link itself to the American version of BLM with the same black and yellow color layout, and has a heavy social media following on Twitter with 74,000 followers and 78,000 on their Instagram.
The group reached out to those followers for donations on June 2nd, receiving 34,500 donations adding up to £1.1 million in all. Now some of those donors are starting to ask questions about BLM UK regarding their extreme-left agenda and a Twitter post last week putting Israel in their crosshairs.
The group's leaders also refuse disclose their identities.
While these questions go unanswered, it is being reported that GoFundMe controls BLM UK's war chest and it has taken more than two weeks to find out the true purpose of the funds from the anonymous leadership.
"No funds have been withdrawn. We require a verified bank account for withdrawal and insist on transparency on use of funds," a spokesman for GoFundMe said.
Ayton believes BLM UK has used a possibly misleading social media campaign – and has used leadership confusion among other activist groups- to carve out a prominent role at the top of the movement.
"They have hijacked taking credit for this movement," she said. "In terms of this movement, they did not organize, they did not lead it, they were not involved in 20,000 people on the streets."
Ayton continued, "I am just mortified because everyone has given money and they are not going to use that to better the black community. They are going to use it to abolish the police, remove prisons and get rid of capitalism.
Why on earth would you donate £1 million to people that are not actually doing anything for the black community here and now?"
Ayton is now trying to build a separate "black reformist movement" to call on government officials to look into injustices among the ethnic communities of the U.K..
The June 20th rally she organized was denounced by BLM UK, who told their followers on Instagram that Ayton's demonstration was "hijacked by reformists," before they added: "Remember: all skin folk are not kinfolk."