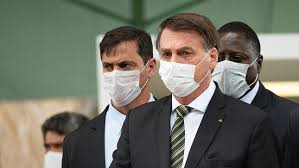 BRAZIL'S JAIR BOLSONARO TESTS POSITIVE FOR COVID-19
---
Mainstream media is having a field day that Brazilian President Jair Bolsonaro has tested positive for the novel coronavirus, "following months of downplaying the virus".
The Brazilian President announced the results personally while speaking to several Brazilian TV channels Tuesday. "Everyone knew that it would reach a considerable part of the population sooner or later. It was positive for me," said the president. "On Sunday, I wasn't feeling very well. On Monday, it got worse when I started feeling tired and some muscle pain. I also had a 38-degree [Celsius] fever. Given those symptoms, the presidential doctor said there was suspicion of Covid-19."
After the results, he announced that they will be taking further precautions like wearing face masks and maintaining social distance practices. "I will dispatch from the office from now on, with video conference," he said.
Earlier on Tuesday, Bolsonaro told CNN Brasil that he had been treated with hydroxychloroquine and azithromycin as he awaited the result of his fourth Covid-19 test in four months. Hydroxychloroquine, though enthusiastically boosted by both Bolsonaro and US President Donald Trump, has not been proven as an effective treatment for Covid-19," as reported by CNN.
Although CNN and others argue that hydroxychloroquine is ineffective, the Brazilian President said, "I am feeling very well. I believe that the way they administered the hydroxychloroquine on, the effect was immediate," he said.
Presently, Brazil is second to the United States in the total confirmed COVID-19 cases and deaths. Much like President Trump, the Brazilian President has regularly appeared in public and at rallies without a face mask, even at times hugging and shaking hands with supporters.
"I have to admit, I thought I had gotten it earlier, considering my very dynamic activity in the face of the people," he said on Tuesday. "And I can tell you more, I am the President and I am on the front line, I don't run away from my responsibility nor do I shy away from the people."
As of writing this article, more than 65,000 people have died from COVID-19 in Brazil with 1,623,284 confirmed cases, according to the Brazilian Health Ministry.
"It's very important to understand the seriousness of this virus and to be really serious," noted WHO Director-General Tedros Adhanom Ghebreyesus at a press briefing in Geneva.
"No country is immune, and no country is safe, and no individual can be safe."