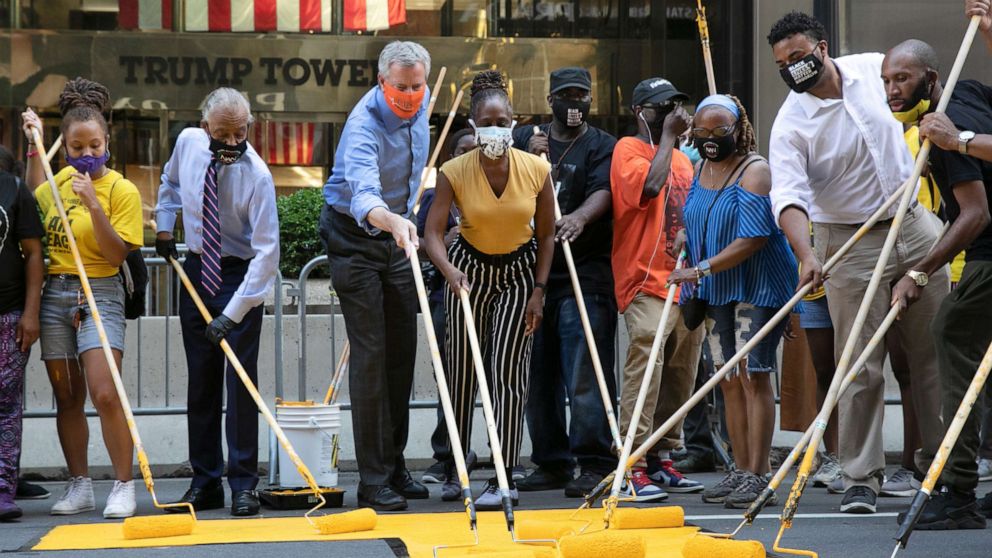 DE BLASIO PAINTS BLM MURAL IN FRONT OF TRUMP TOWER AS NYC CRIME SURGES
---
In between cutting police funding by a billion dollars and watching the highest spike of violent crime in decades happen in his city, New York Mayor Bill de Blasio took some time on Thursday to paint a spite-mural outside Trump Tower that reads "Black Lives Matter."
On 5th Avenue yesterday the mayor was serenaded with people shouting things like "douchebag de Blasio" as he paid tribute to the organization that gripped New York in lockdowns, curfews, and terror by rioting throughout the "Big Apple" in recent weeks.
"Fascinatingly ineffective, first of its kind strategy in progress by Mayor DeBlasio: At the same time, he is both asking the President for a $7.4 BILLION bailout while also trolling the President by painting this mural in front of Trump Tower in NYC," New York Congressman Lee Zeldin pointed out.
Alongside his wife, the Rev. Al Sharpton, Brooklyn Borough President Eric Adams and Rep. Carolyn Maloney (D-NY), de Blasio helped paint the giant block letters all for the glory of what is being called a political stunt.
When the project was first announced President Trump tweeted his disapproval, saying, "Told that@NYCMayor Bill de Blasio wants to paint the fabled & beautiful Fifth Avenue, right in front of Trump Tower/Tiffany, with a big yellow Black Lives Matter sign. 'Pigs in a Blanket, Fry 'Em Like Bacon', referring to killing Police, is their chant. NYC Police are furious!"
Then reminding everyone, "Black Lives Matter leader states, 'If U.S. doesn't give us what we want, then we will burn down this system and replace it'. This is Treason, Sedition, Insurrection!" Later the President added the words, "LAW & ORDER."
The mayor was jeered at by a few onlookers as he made his way to the preplaced paint. When the mayor spoke he said "This is such an important moment for our city," as the volunteers responded by chanting, "Black lives matter!" while gripping their paint rollers.
"We are making a statement today of what we value in New York City," he said, then he abruptly left after 20 minutes.
Benny Johnson of Turning Point USA tweeted "Have you ever seen a more useless politician than Bill de Blasio? This is just pathetic."
It took more than 20 local artists to whip up the block letter eyesore. As de Blasio's youth-focused BLM sweat-shop labors from Street Corner Resources toiled in the hot summer streets, one fed-up New Yorker shouted, "Shame on you!." Another added "Hitler told us all lives didn't matter, too!"
While his city was choked with chaos during the Black Live Matter riots a few short weeks ago, the mayor's own daughter, Chiara de Blasio, was arrested along with other Marxists committing crimes on the streets on New York.
The leader of Black Lives Matter NYC said in an interview two weeks ago, "If this country doesn't give us what we want, then we will burn down this system and replace it. All right? And I could be speaking figuratively. I could be speaking literally. It's a matter of interpretation."
As uncheck violence surges in de Blasio's New York, 64 people were reportedly shot last weekend. 10 died including a father holding hands with his 6 year old daughter while crossing the street. There have been 205 shootings in June alone, with the total reaching over 526 as of the beginning of this month. Police say it is the worst year for shootings since 1996 -and the year is only half over.
The mural was privately commissioned by de Blasio himself last month as a planned series of visual atrocities across the city that will surely stand as a reminder during the next wave of riots where the elected leader of New York's priorites fall.