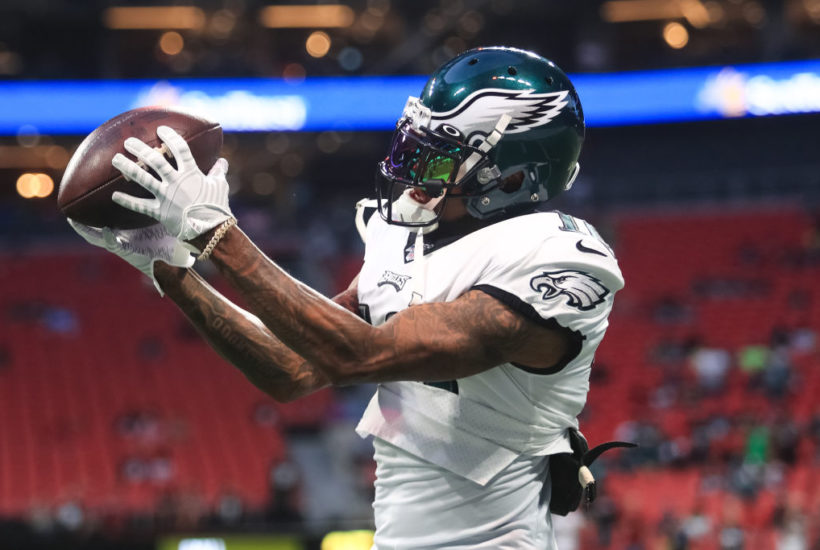 DESEAN JACKSON'S ANTI-SEMITIC INSTAGRAM POST BASED ON BLACK HEBREW ISRAELITE
---
In early July, NFL player Desean Jackson of the Philadelphia Eagles posted on Instagram anti-Semitic remarks attributed to Adolf Hitler.
Surprisingly, many celebrities and professional woke athletes, black or white, have remained silent on the post. Even Colin Kaepernick, the leading SJW, has been unusually quiet during Jackson's twitter tirade.
In an opinion piece for Spectator USA, Dominic Green writes, "from which we conclude that Jackson's knee-taking peers in the locker room, the icons of BLM and the gatekeepers of the 'paper of record' either agree with him, or think it's not a big deal, or think that black racism toward Jews should be overlooked in the name of the greater cause of 'anti-racism.' In a way, it doesn't really matter which. Any society that establishes any of these beliefs as acceptable – 'normalized' as the guardians of speech now say – is heading to perdition."
Desean Jackson's Instagram post showed a highlighted newspaper clipping and stated the following:
'Hitler said, "because the white Jews knows [sic.] that the Negroes are the real Children of Israel and to keep Americas [sic.] secret the Jews will blackmail America.
The [sic.] will extort America, their plan for world domination won't work if the Negroes know who they were.
The white citizens of America will be terrified to know that all this time they've been mistreating and discriminating and lynching the Children of Israel.
They will fear God will destroy them as he destroyed Egypt for doing the same thing. So the Elite, the Illuminati keeps this a secret at all cost.
After I die I will one day cause World War 3 just by this message which will be like planting a seed in a people minds [sic.] until it sprouts once they nurture that seed and seek more truth and learn Hitler was right.'
Dominic Green notes that the clipping is from The Hidden Treasure That Lies in Plain Sight: The Day of the Lord and the End of America by Jeremy Shorter, forward by 'Adolf Hitler. Green says, "Mr. Shorter seems to be a Black Hebrew Israelite. This sect believe that they, not the Jews, are the real Jews. In 2019, Black Hebrew Israelite propaganda was linked to domestic terrorism: the killing of a policeman and shoppers at a Jersey City kosher market by a couple who had cited Black Hebrew Israelite ideas, and the stabbing of Jews in Florida by a self-professed Black Hebrew Israelite. Apart from inciting against Jews, the Black Hebrew Israelites have links to the 'sovereign citizen' movement, which incites attacks against the police."
The Spectator Columnist concludes that he doesn't believe that Jackson should be ejected from the NFL or suspended from the eagles. Perhaps, Green may be one of the few free-speech advocates that will not endorse the rampant cancel culture that has gripped America.