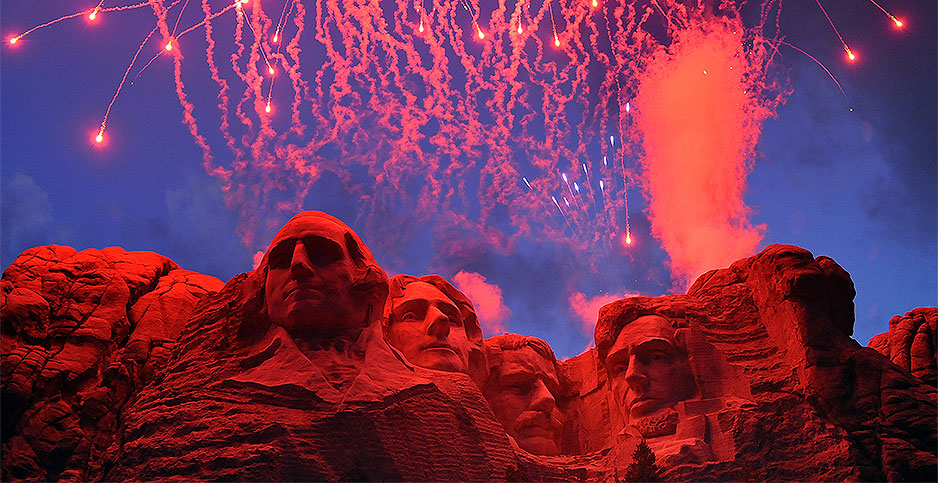 DNC DELETES TWEET ACCUSING TRUMP OF 'GLORIFYING WHITE SUPREMACY' WITH MT. RUSHMORE 4TH OF JULY CELEBRATION
---
The Democratic National Committee is facing backlash after a trigger-happy staffer mistakenly told the world how they really feel by posting on their official Twitter account on Monday evening that President Trump was "glorifying white supremacy" by planning a Fourth of July celebration at Mount Rushmore.
Under the carved faces of George Washington, Thomas Jefferson, Theodore Roosevelt and Abraham Lincoln, Trump plans on basking at the fireworks along with onlookers at the emblematic national landmark.
The Democrats' official Twitter page sent out a bitter message about Trump choosing the monument for his celebration linking an article by racially-left content publisher, The Guardian. The article focuses on issues from the Native American community.
"Trump has disrespected Native communities time and again," the official Democrats' Twitter wrote. "He's attempted to limit their voting rights and blocked critical pandemic relief. Now he's holding a rally glorifying white supremacy at Mount Rushmore- a region once sacred to tribal communities."
Sensible Americans quickly hit back at the Democrats' tweet, which was hastily deleted.
"Would be curious to hear @TheDemocrats explain what part of shooting off fireworks at Mt. Rushmore for the 4th of July 'glorifies white supremacy'. The fireworks? Mt. Rushmore itself? The 4th of July?" Logan Dobson , a Republican pollster asked. "Like I think I know what they're implying here, and the tweet was obviously designed to tell their base something, but it would be really instructive if they were actually made to answer the question."
"The Democrats think Mt Rushmore is a display of white supremacy. There's no saving this country if Biden gets elected," radio host Jason Rantz told his followers.
"4th of July festivities at Mt. Rushmore = 'a rally glorifying white supremacy' 2020 Democrats have lost it," National Republican Senatorial Committee senior adviser Matt Whitlock struck back.
"Pretty disappointing that when Democrats held the WH and Congress a few years back, they left up this monument 'glorifying white supremacy,'" writer Jeryl Bier reminded the public.
"All the Republicans have to do is run on a 'Hey, at least we're not the Democrats' platform," author and host of The Rubin Report, Dave Rubin, chimed in.
Recently, Black Lives Matter groups have been calling for the removal of statues and monuments, deeming nearly anything celebrating America or it's history to be "white supremacy." BLM has collected tens of millions of dollars in the past month alone and much of the donations have been funneled to Joe Biden's campaign and the DNC.
Radical Marxists marching with BLM and Antifa have put Mount Rushmore on notice. One author in a Native American publication said:
"Those aren't my forefathers on that mountain. They represent the spilled blood of my ancestors. My forefathers are Sitting Bull and Crazy Horse and I would never blow up a mountain to memorialize them. I would do it through my actions to help my land, water, air and people," Nick Tilsen told Indian Country Today.
VICE editor Wilbert Cooper wrote a piece titled "Let's Blow Up Mt. Rushmore" suggesting redoing the landmark with, "such important figures as Martin Luther King, Jr., Malcolm X, and even Barack Obama replacing the current faces." Pretty much anyone not a white-American appears to be okay with him.
It seems like under the current governor, Mount Rushmore will press on. When asked about its possible destruction or removal South Dakota Gov. Kristi Noem replied on Twitter, "Not on my watch."
Trump plans on celebrating the signing of the Declaration of Independence's anniversary by having an air show featuring fighter jets soaring over the national monument in the Black Hills of South Dakota -regardless of the feelings of the DNC and their supporters.