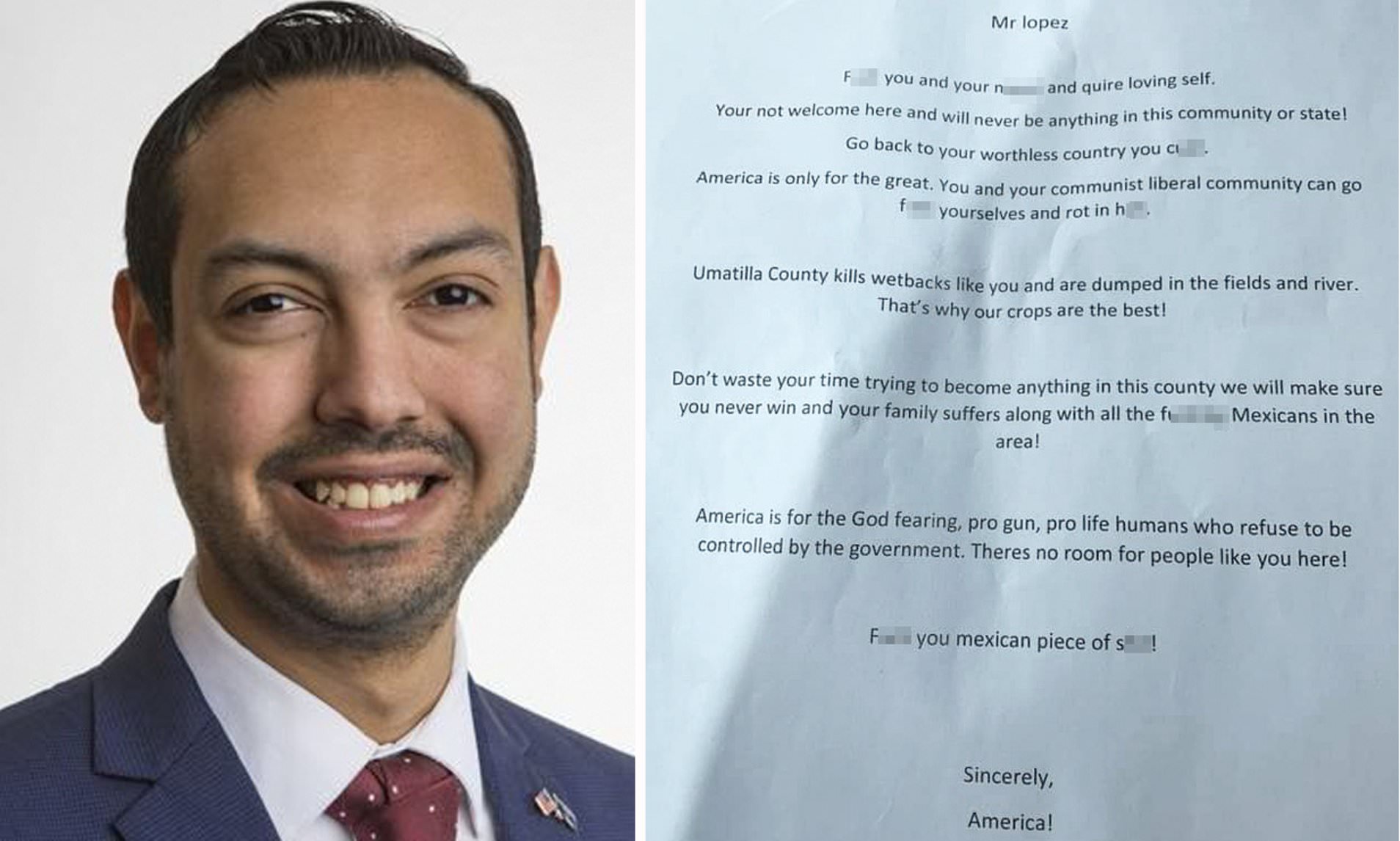 OREGON POLITICIAN SENT HIMSELF HATE MAIL AND FAKED MILITARY SERVICE
---
Candidate for Umatilla County commissioner, Jonathan Lopez, divulged the embarrassing truth about hate mail he showcased on his Facebook page -he faked it.
In one part of the fake letter, Lopez wrote, "Don't waste your time trying to become anything in this county we will make sure you never win and your family suffers along with all the other fucking Mexicans in the area!" The letter signs off by saying, "Sincerely, America!"
The unhinged Oregonian politician displayed a hateful letter of his own design filled with racist, homophobic and misogynist content. Lopez also claimed to be a veteran of the US Coast Guard, which turned out to be a lie in a brazen act of stolen valor.
Hermiston Police Chief Jason Edmiston told KEPR-TV News that the anonymous letter was found to be fake after an investigation into second-degree intimidation. As of June 23rd the case is considered closed. The issue is now in the hands of the Umatilla County District Attorney's Office to be looked into as a Class A misdemeanor for initiating a false report to police.
After being caught red-handed Jonathan Lopez confessed to being the author of his own hateful letter.
Lopez also kept the Hermiston Police and Office of the District Attorney busy having to investigate supposed election fraud in regards to the Stolen Valor Act of 2013 and other false credentials Lopez provided during his run for county commissioner. Adding this to an already long criminal history record may result in Lopez facing additional charges.
Edmiston wrote a statement to Action News saying, "Our investigation has shown that Mr. Lopez wrote the letter himself and made false statements to the police and on social media. The end result is a verbal and written admission by Mr. Lopez that the letter was fabricated."
The police chief continued, "The time spent on this fictitious claim means time lost on other matters, not to mention it needlessly adds to the incredible tension that exists in our nation today." Edmiston added, "As a lifelong resident of this diverse community, I'm disgusted someone would try to carelessly advance their personal ambitions at the risk of others."
Lopez later claimed "I never meant to file a report, it just kind of spiraled out," adding he "never meant to mislead" anyone and he wrote the letter as an "example" of racism he believes people are afraid to talk about.
Lopez talked with KEPR-TV News about the letter, as it warranted him attention when he first insisted it was genuine on his social media. Within 24 hours the letter was picked up by news outlets and shared hundreds of times.
The scammer gave a dramatic statement when he first claimed to receive the letter, saying "Many don't know me or who I am and where I stand. As an American born man who served in the USCG, fire and rescue services. I'm also proud of where my parents and grandparents were born and raised, Mexico. I have lived a life full of obstacles and challenges Including racism. There is no room or tolerance of that."
Then Lopez made a disingenuous plea for unity, "We now more than ever must address these issues that are destroying and distancing us from unification," Jonathan wrote. "We must be mature and adults about things and address them properly at a table or meeting in which we can come to an agreement or mutual understanding!"
The hoaxer lost his bid for Umatilla County commissioner in May, placing fourth in the race. He also sits on the city of Hermiston's Hispanic Advisory Committee.
Lopez has since deleted his social media accounts.