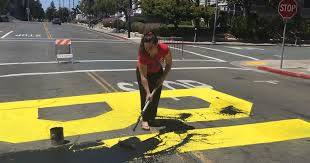 SOROS-BACKED DA CHARGES CA COUPLE WITH 'HATE CRIME' FOR PAINTING OVER BLM MURAL
---
In a press release Tuesday afternoon, Contra Costa County District Attorney Diana Becton's office announced that Martinez, California, residents Nichole Anderson and David Nelson were being charged with "violation of civil rights."
District Attorney Diana Becton was backed by left-wing billionaire George Soros in 2018, as reported by Breitbart. The Californian DA will be pursuing a hate crime for the couple painting over a Black Lives Matter mural on the road in downtown Martinez in front of the Wakefield Taylor Courthouse. The permit to paint the temporary BLM mural was approved and completed on July 4.
A video circulating twitter shows a woman taking to the streets painting over the mural. Consequently, once the video made the twitter rounds, the couple was quickly "doxed," with personal information – including addresses and phone numbers – posted.
NBC News made it clear what the couple's racial identity is when they posted on Twitter: "Police are looking to identify a white man and white woman who vandalized a city-approved Black Lives Matter mural in Martinez, California, on the Fourth of July."
The relevant section of the California Code states the following:
"(b) No person, whether or not acting under color of law, shall knowingly deface, damage, or destroy the real or personal property of any other person for the purpose of intimidating or interfering with the free exercise or enjoyment of any right or privilege secured to the other person by the Constitution or laws of this state or by the Constitution or laws of the United States, in whole or in part because of one or more of the actual or perceived characteristics of the victim listed in subdivision (a) of Section 422.55."
Becton state in a press release:
"We must address the root and byproduct of systemic racism in our country. The Black Lives Matter movement is an important civil rights cause that deserves all of our attention," stated Contra Costa County District Attorney Diana … The mural completed last weekend was a peaceful and powerful way to communicate the importance of Black lives in Contra Costa County and the country. We must continue to elevate discussions and actually listen to one another in an effort to heal our community and country."
In the video, the couple covering the Black Lives Matter mural can be seen saying:" "No one wants Black Lives Matter here," said the man, who wore a Trump 2020 shirt and hat. "We're sick of this narrative. That's the problem. The narrative of police brutality, the narrative of oppression, the narrative of racism. It's a lie."
As reported by the San Francisco Chronicle, bystanders watched the couple cover the BLM mural and were apparently "traumatized" and scared by the mural's encounter and destruction.