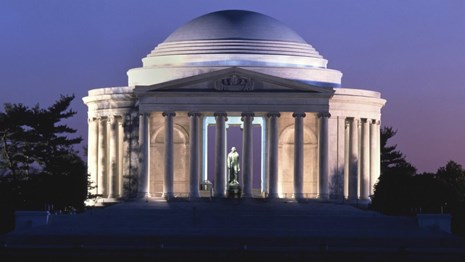 THOMAS JEFFERSON'S DESCENDANT WANTS FOUNDING FATHER'S MEMORIAL REMOVED  
---
Journalist Lucian K Truscott IV published an opinion piece arguing that Thomas Jefferson "never did much to make those words come true." Truscott told the story how he and his brother, both great-grandsons, would play at Jefferson's ancestral home, Monticello, and that they realized they both took it for granted.
"It was where all of our great-grandparents and great-aunts and great-uncles were buried, and where one day, we were told, we would be buried, too." He argues that the Jefferson Memorial isn't needed and that Monticello is enough to honor the founding father, Thomas Jefferson.
"It's still enough. In fact, as a memorial to Jefferson himself, it's almost perfect. And that is why his memorial in Washington should be taken down and replaced. Described by the National Park Service as 'a shrine to freedom,' it is anything but," said Truscott.
He describes the shrine as a memorial to a man who, "during his lifetime, owned more than 600 slaves and had at least six children with one of them, Sally Hemings."
Following the George Floyd protests and riots, the calls for dismounting statues and memorials to our Founding fathers and confederate icons are increasing by the day with mainstream pundits and celebrities joining in on the demands.
President Trump, on his Fourth of July address, condemned the left-wing radicals and their objective to "wipe out" American history. "Make no mistake, this left-wing cultural revolution is designed to overthrow the American revolution," Trump said.
President Trump said: "Our children are taught in school to hate their own country. Our nation is witnessing a merciless campaign to wipe out our history, defame our heroes, erase our values, and indoctrinate our children. "Angry mobs are trying to tear down statues of our founders, deface our most sacred memorials, and unleash a wave of violent crime in our cities."
The great-grandson, Lucian K Truscott IV, said, "at Monticello, you will learn the history of Jefferson, the man who was president and wrote the Declaration of Independence, and you will learn the history of Jefferson, the slave owner. Monticello is an almost perfect memorial because it reveals him with his moral failings in full, an imperfect man, a flawed founder."
As pressure continues on local and public officials to dismount statues nationwide, President Trump issued an executive order to build and rebuild monuments as a display of confidence and patriotism that this Administration will not cave to the mob.
The purpose of the order as stated: "America owes its present greatness to its past sacrifices. Because the past is always at risk of being forgotten, monuments will always be needed to honor those who came before. Since the time of our founding, Americans have raised monuments to our greatest citizens. These statues are not ours alone, to be discarded at the whim of those inflamed by fashionable political passions; they belong to generations that have come before us and to generations yet unborn. My Administration will not abide an assault on our collective national memory. In the face of such acts of destruction, it is our responsibility as Americans to stand strong against this violence, and to peacefully transmit our great national story to future generations through newly commissioned monuments to American heroes."