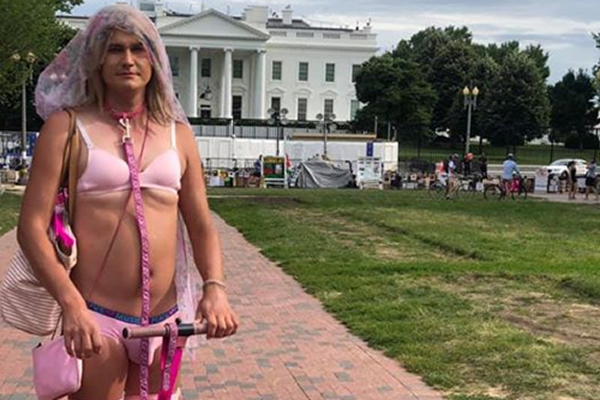 TRANS WOMAN TARGETING GAY BAR PATRONS IN WASHINGTON, D.C.
---
A 30-year-old transgender woman who was arrested in early July for allegedly threatening to kill a gay man outside a Washington, D.C. bar on June 9 after he refused to give her money has been on a rampage in targeting bar and restaurant patrons for assault and harassment in the 17th Street and 18th Street business corridors near Dupont Circle, according to the Washington Blade.
Witnesses have said that the trans woman, Sissy Gracie, pitches to people she approaches that she is collecting donations for the LGBTQ community services center Casa Ruby. She sometimes even urges people under significant pressure, insisting that they make donations in cash or by card through a scanner linked to her smartphone.
The CEO of Casa Ruby, Ruby Corado, has previously posted to Facebook that Gracie neither works for nor has ever been designated as a fundraiser for the company and appears to be fraudulently pocketing large sums of money she receives from unsuspecting donors, the Washington Blade reported.
"If people want to give her money, that's their business," Corado told the Washington Blade. "My issue is that she is using violent behavior and that is reflecting on Casa Ruby."
Police arrest records reveal that Gracie was arrested on July 19 outside JR.'s for apparently assaulting JR.'s bartender and bar-back Gideon Blum. Blum reported that Gracie had struck him with a Segway motorized scooter that she was riding in an indoor area.
A D.C. police report indicated that Gracie was charged with a single count of simple assault for the event.
The Washington Blade reported that the "D.C. police … respon[ded] to a call from a citizen who had learned from social media postings that Gracie may have been experiencing mental health problems … The report says police notified the Crisis Response Team associated with the D.C. Department of Behavioral Health's Comprehensive Psychological Evaluation Program."
As a response, the Crisis Response Team arrived at the scene and a decision was made to take Gracie to a facility operated by the Comprehensive Psychiatric Emergency Program for evaluation and treatment. Gracie was spotted two days later on 17th Street, indicating that she had been released shortly after the evaluation.
Wayde Taylor, a Larry's Lounge customer, told D.C. police that Gracie threatened to kill him during the June 9 incident. Taylor said he was threatened a second time by Gracie, on July 26, while he was sitting at an outdoor table at the 17th Street restaurant Brick Lane.
"She threatened me after getting out of an Uber," Taylor said, adding that "she made a slit throat gesture," while looking directly at him. Taylor called the D.C. police and Gracie was arrested shortly after for violating a stay-away order.
Less than a week before Gracie threatened Taylor for the second time, bartender Dito Sevilla reported that he was assaulted by Gracie near Floriana's restaurant on 17th Street where Sevilla works.
The Washington Blade reported that a spokesperson for the Office of the U.S. Attorney for the District of Columbia—which prosecutes criminal cases in D.C.—did not respond to a request for an explanation of why the U.S. Attorney's Office had not prosecuted Gracie for all the arrests except for the incident on June 9.
The Daily Caller released a video showing Gracie running toward D.C. Congressional Del. Eleanor Holmes Norton on Black Lives Matter Plaza on June 23, where Norton was being interviewed by NBC News anchor Andrea Mitchell. The video shows a man jumping in Gracie's path to protect Norton from being assaulted. The video shows the man grabbing Gracie and forcibly pulling her away from Norton, who appeared startled.
No records have been recovered to indicate that Gracie was arrested for attempting to harm Norton in Norton's role as a member of Congress, which would be a federal offense.
An affidavit in support of Gracie's arrest for the Larry's Lounge incident filed in D.C. Superior Court states that Gracie threatened complainant Wayde Taylor after Taylor told her he knew she did not work for Casa Ruby.
The affidavit continues by saying that Gracie had been telling customers seated in the Larry's Lounge patio that she was associated with Casa Ruby and was raising money for the organization.
"The complainant stated that when the defendant asked for money he refused and confronted her by saying that she does not actually work for Casa Ruby in front of patrons," the affidavit reads.
"The defendant then stated that she was going to wait outside for the complainant to leave the bar and kill him."
This is not the first time members of the trans community have either lied or blown things out of proportion. LGBT activists claimed in early May that there was an epidemic of murder against trans women following the death of three trans women in Puerto Rico. Not only is it absurd to base isolated events in Puerto Rico as an accurate representation of what is going on in the rest of the world, it is simply false to suggest that there is an epidemic of killing trans women. For perspective: according to a 2018 report, a total of 50,000 women are killed every single year by intimate partners or family members alone.
Another example features Jessica Yaniv, a trans woman who also happens to be a child sex predator, accused a reporter from The Post Millennial of sexually assaulting her in mid-January, saying that the reporter was taking photos of her while in the restroom. No evidence has since been revealed to substantiate the claim.