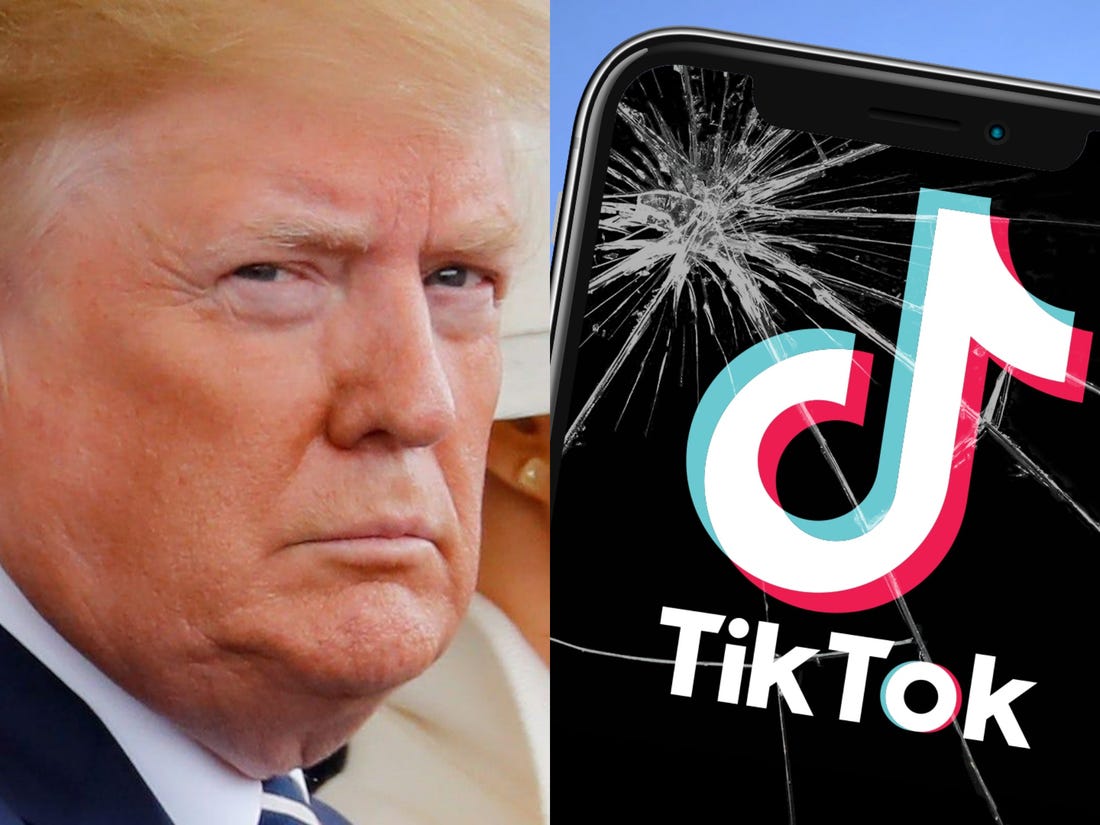 TRUMP ANNOUNCES THAT HE WILL BAN TIKTOK
---
The Post Millennial reported Friday evening that President Donald Trump announced to journalists on Air Force One that his administration would move forward in banning the mega-popular social media app, TikTok.
"As far as TikTok is concerned, we're banning them from the United States," Trump told reporters on Air Force One, according to Fox News."I have that authority … It's going to be signed tomorrow." He added that he could do this through an executive order or emergency economic powers.
Trump has been considering the idea of banning TikTok for some time, expressing concerns that it may have a back door to Beijing, where the Chinese Communist Party can access information and data without their knowledge. Amazon CEO Jeff Bezos even demanded that his employees delete the app, The Post Millennial reported.
A ban on the app would put even more pressure on TikTok's Chinese parent company ByteDance to sell the app's U.S. operations due to concerns about security risks. Fox News reported that Microsoft is a top candidate to buy if ByteDance decides to sell.
NBC News political reporter Josh Lederman tweeted that Trump's comments about TikTok were originally not meant to be on the record, but after being pushed to move it on record, the president agreed.
The Post Millennial reported that China had pulled TikTok from Hong Kong's digital marketplace as a result of the new national security laws. The debate about the social media platform has also manifested in the idea that China could start using the medium to manipulate impressionable minds by permitting some political content to appear without exposing users to the other side of the debate.
Kyle Kashuv wrote in mid-April that "TikTok has the facade of an innocent platform, filled with kids dancing, and lip-syncing. But TikTok has an enormous user base, with 1.5 billion downloads and 800 million active users. Those who control the levers of what can, and cannot be seen on its platform, have immense sway."
"TikTok is dominating Apple's hugely popular iOS App Store, with 33 million downloads in the first quarter of 2019. It is the single most downloaded app of that quarter. Globally, 41 percent of TikTok users are between the ages of 16 and 24. In 2019, 123.8 million people downloaded TikTok in the U.S. So tens of millions of young Americans spend countless hours there, developing their perspectives and their beliefs as they observe what they see."
TikTok CEO Kevin Mayer went after Facebook CEO Mark Zuckerberg in a recent blog, attempting to make the case that American advertisers are given more options because of the platform, writing that TikTok's "energies on fair and open competition [are] in the service of our consumers, rather than maligning attacks by our competitor—namely Facebook—disguised as patriotism and designed to put an end to our very presence in the US," adding that American advertisers would lose out on options and that "competition would dry up and so too will an outlet for America's creative energy." This comes after Zuckerberg expressed that his company is in a "digital arms race" against his Chinese competitor.
Mayer said of TikTok that "we are not political, we do not accept political advertising and have no agenda—our only objective is to remain a vibrant, dynamic platform for everyone to enjoy."
Though the use of the platform may sound innocent enough, there is no question that serious discussions need to be had about foreign social media platforms being used within the U.S. As tensions grow between the U.S. and China, from the origins of the novel coronavirus to the recent shutting down of the Chinese consulate in Houston, Texas, there is perhaps even more incentive for the Eastern power to interfere in the lives of Americans.
The Post Millennial reported that while TikTok "appears to be nothing more than an app where kids can share goofy dances and oddities, a CCP law that's been in place since 2017 enforced closer ties between Chinese companies and Beijing," adding that "the US has had concerns about other Chinese companies as well, such as the smartphone company Huawei, which is believed to have broken US sanctions against Iran, and ZTE, a surveillance and facial recognition company."