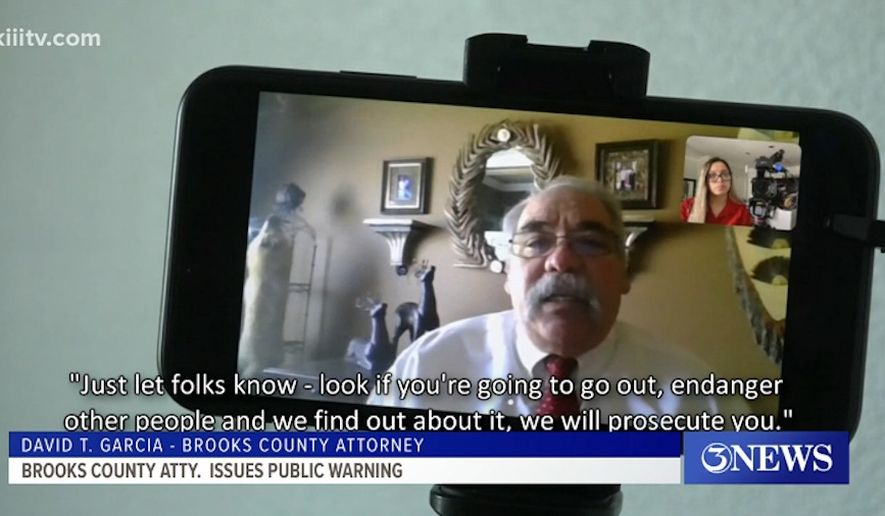 TX COUNTY TO ARREST RESIDENTS WHO REFUSE TO SELF-QUARANTINE
---
Brooks County, South Texas, issued a warning that anyone who tests positive and refuses to self-quarantine may find themselves in jail.
As reported, an official with the Brooks County Office of Emergency Management, confirmed the warning as legitimate, citing Texas Penal Code 22.05(a): A person commits an offense if he recklessly engages in conduct that places another in imminent danger of serious bodily injury."
A posting states: "Appearing in public after testing "positive" EXCEPT to get medical care, can lead to your arrest. If you have tested positive, stay home!"
The warning notes that someone who is positive for COVID-19 may be arrested even simply by exposing another individual and not necessarily infecting the person.
It's not entirely clear how law enforcement would enforce such measures or how they would verify whether a violation occurred.
As of July 7, Brooks County had 18 total confirmed cases of COVID-19, according to news reports.
On Tuesday, the state of Texas has surpassed 10,000 new coronavirus cases in a single day for the first time since the start of the epidemic. Meanwhile, cases are surging throughout several states as the reopening of America continues and even causing some states to pause as cases surge.
Dr. Deborah Birx, the White House coronavirus response coordinator, said that cases are spiking in some parts of the country because states "stepped on the gas" to reopen the economy.